Nanni's profiles – Patrice Hugot, Application Service Manager
Nanni was not built in a day. With a rich history dating back to 1952, the Franco-Italian company now employs over 100 people in its offices and factory. These are the people who keep Nanni going day after day.
To pay tribute to them and to show you how our organisation works, in this News section we offer you a series of portraits and interviews with various employees and collaborators. The idea is to introduce you to the people who make Nanni come alive, but more importantly, to explain their jobs to you.
Let's start this series with a rich exchange with Patrice Hugot, our Application Service Manager, who knows the Nanni company well, having worked there for almost 20 years. Today, his role gives him an overview of the entire product sales cycle, from order to installation, including all the stages in between.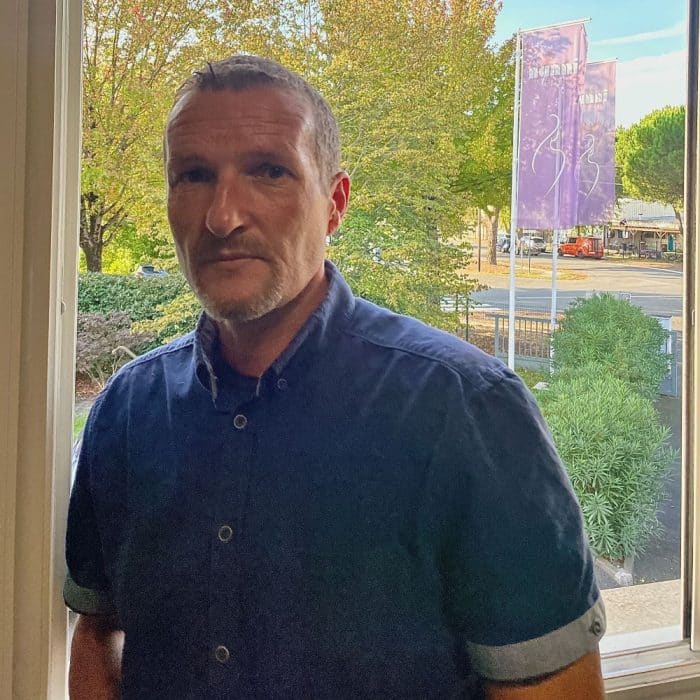 Hello Patrice Hugot! First of all, could you tell us a little about your background before joining Nanni?
Before coming to Nanni, I studied technical subjects, meaning industrial design and precision mechanics. I started with a BTS (Brevet de technicien supérieur) in micro mechanics. After that, I did a year in prototype design and production, and then I went off to the army, like everyone else, to do my training. When I got out, I stayed in the Arcachon bay area and started working almost directly for Nanni. I'm originally from Perpignan.
When did you join Nanni and what has been your career path within the company?
I joined in 2003. It's been twenty years, but I've been in the application department for three. 38 months, to be precise. I knew someone who worked on the production line, so we exchanged information. At the time, I was already working in retail. As we talked, he said to me, "Are you looking for a job in mechanical engineering?" So I joined Nanni. I started out on the Kubota engine assembly line, before I joined the pre-assembly department. The aim was to produce engine sub-assemblies. We started developing it to increase production rates, and the R&D department's office was right next to my assembly station. One day, the head of the R&D department came by and we had a technical discussion. After that, when he came back up, he was interested in what I'd told him, and it obviously made sense to him. Given my experience, he came down to see me and asked me to join the R&D department. So I joined the office for 10 or 11 years, where I did prototype assembly, engine testing, sea trials and on-board installation with a former Renault Marine employee. In particular, we produced the first engine hybridizations (diesel-electric), developed the current range and optional assemblies. Later, when the former applications manager left the company, management asked me if I'd be interested in moving into this department. I agreed, since I was already doing drawings, dimensional drawings and new option orientation.
Could you describe your role at Nanni?
The role of someone working in the applications department is to find the best solution or the most suitable engine for the customer's needs. So we act as an interface between sales and the design office.
When it comes to shipyards, it's for new engines or for the definition of a new boat. In this case, we approach their engineering department to draw up product specifications to ensure the best performance, the lowest consumption and the accessories that will enable the boat to be used to the full. If it's a motor yacht, meaning a powerboat, we're more likely to opt for engines with performance and displacement levels that are different from those of a sailboat… Today's motor yacht customers demand air conditioning, American fridges and a host of accessories, so they want all the comfort they can get. They want all the comforts they can get. So we're going to deliver a motor that's both comfortable to sail at the boat's maximum displacement speed, and that can also run the electrical system, which often includes a generator. As a reminder, when a boat is designed, it has what is called a hull speed. This is a function of the boat's shape, weight and length. This allows us to determine what type of engine and what power is needed to enable the customer to get the most out of his boat.
In the case of sailing, our role is also to propose the motorization best suited to the boat, the one that will give the best boat displacement speed with sufficient remaining power so that, on the day when the customer finds himself in a complicated situation – i.e. no wind or heavy seas – he can push his motor to get out of the predicament. This principle also has other interesting aspects. With a more powerful engine, you're sailing at a lower engine speed, making less noise, consuming less fuel and therefore lasting much longer. The engine is less stressed. That's all part of working with the shipyards.
On the other hand, there's the part where we work with distributors in their repowering operations. In these cases, it's the most interesting part for the person working on applications, since the person who bought the boat can provide information on its use and regular practices. In other words, on a sailboat used purely for pleasure, where we know that the person who bought the boat is not going to use it purely for sailing, and tell us that it will be used 50% for wind and 50% for thermic sailing, we can really personalize the application. For example, on an eight-meter sailboat equipped with a 10hp engine, and where we know he's going to use the motor a lot, we're going to fit him with a more powerful motor that accepts a larger alternator or a small pump that the old motor wouldn't necessarily have supported. Our engines today are among the most fuel-efficient on the market, and offer a wide range of options. On the other hand, you can have someone who buys a boat that was powered by a 200hp engine but, when it's put to use, realizes that a 140hp is more than enough, because the shipyard originally approved its hull for 200hp, but had already powered it with lower engines. So we can afford to put in a lower engine, which will be more suited to what it's going to do. In fact, we're really going to focus on what the customer wants. That's the fun part.

So, you'll be working with Nanni's engineering department and those on site, as well as with the after-sales service?
In fact, the applications position is the interface between the sales and engineering departments. The customer asks the sales representative for something; the sales representative checks to see if it already exists in the catalog; if not, he comes to see me to create an additional option; I see if it's possible; I carry out a preliminary study and, if I think it is, I make the request to the engineering department; finally, I make sure that the latter has the right input data to work with. Then, with the help of the methods department, I validate the element that has been made and we deliver it to the customer. If we're working on a new boat model, or if there's a specific technical case, I work with the sales team from the outset to define the product and the most suitable options. In this case, I act as a support for the technical discussions. Once I've defined the motor and the various peripherals, I hand over these elements to the sales team. I draw up a description so that they can draw up a price list. It's very varied, in fact: from pleasure craft to professional marine applications, or specific applications such as Exail's iXblue small autonomous boats for deep-sea exploration.
How do you manage to keep up with the constant flow of requests?
The advantage is that you never see the time go by, because it's an extremely versatile job. Then there's the second part of the job, where we're in direct contact with distributors or dealers when they're faced with a technical problem. There we're at their side, helping them as best we can. That's where we get closer to the after-sales service and act as an interface… So, be careful, when it's an engine breakdown that requires an in-depth analysis or something really specific, I leave it to the after-sales service, who are much more qualified than I am, you have to know how to stay in your place. When it comes to questions about dashboard changes, joystick definitions, in-house assembly problems, or sometimes after-sales service problems that I've already seen, they go through the application department.
If you had to pick one thing you like best about your job?
Diversity. Today, when you're working with a shipyard or repowering someone who doesn't know what he wants, you can define the motor, the gearbox, the shaft line, the propeller, the diameter… It's very interesting when you do that. You've defined the beginning of the project in technical terms, you see the motor being built downstairs, you know it's gone, you see it arrive at the yard, you see it installed, you go and do the tests: in fact, you've got the whole chain, from the brain to the end. It's quite enjoyable. Especially when you're doing the trials, when you've determined a theoretical speed for the boat, you've given it 10.3 knots, and when you get to the end, you're at 10.3 knots: you see that you haven't made a mistake, and that's a pleasure.
The same goes for the shipyards. They had determined 10 or 9.5 knots. For your part, you're sure that with the engine you're proposing, you'll do better with an equivalent or slightly lower power level. If the engine you're proposing has a wider torque range, you'll be able to put a different propeller on it, and it will perform better at higher speeds, be more maneuverable and consume less fuel. At Nanni, we work with small Kubota engines from 0 to 140 hp, then we work with Toyota engines for the so-called fast engines, so these are for gliding hulls. To take the example of the Lagoon, it's an N5, so it's originally a John Deere engine for tractors, then we move on to much more powerful and advanced engines, i.e. Scania and MAN above.
In other words, if a customer comes to you and says "I want this application, but I want this particular engine", and you see in the calculations that he hasn't chosen the right base, do you try to convince him, or if he wants his engine, do you give him his engine?
Yes. In general, our customers choose Nanni because of our expertise. It's our purpose to offer them the best technical and technological solution. Someone asks me for a Toyota engine for a barge: it's not an engine that's made for that, so the customer won't be satisfied, we won't be satisfied and it won't be reliable… So we're not going to sell it to them. Why offer an engine to someone who won't be satisfied and will have problems with it? We're there to provide technical advice for the customer, but also to protect the company. Today, customer satisfaction has its principles, its demands and its duties, but it also has its limits. I wouldn't offer a 115hp motor that weighs 500 kilos to fit into a seven-meter sailboat. In that case, I'd tell the salesman that we don't advise him. And here at Nanni, we're lucky in that management is on our side on this. If I say "no, it's not good, we're going to the cardboard box, it's going to cost us money, it's going to break, the brand image isn't good, the customer etc." I'm followed. Today, with all the social networks, a customer is like everything else: a brand image is easier to destroy than to create.