Nanni launches its new website!
Ladies and gentlemen: welcome to Nanni's brand new showcase website!
Traditionally, a website is said to have a lifespan between 3 and 5 years before requiring a major overhaul to match the evolving standards of the world wide web. Our previous site was developed in 2015, only to be taken over and improved from 2020 onwards. It was able to do its bit for many years, but the need for a redesign was becoming increasingly apparent. That's why, to get the 2023 boat show season off to a good start, it seemed necessary to offer a clearer, more complete and more ergonomic site to make life easier for our customers and partners.
Developed in close collaboration with a brand-new Bordeaux-based digital agency, the new website is designed to be easier to use and clearer in its functionalities. We'd like to take you on a little tour, to introduce you to each of the site's new features:
THE NEW DEALER MAP
First of all, one of the star features of the previous site is back with a complete overhaul: the dealer map!
As on the previous web site, you'll find all our agents and distributors grouped together on a world map. To find the nearest, you simply enter your location in the small search bar at top right. As on the old site, a card with the point of sale's coordinates is displayed on the map, but this information is now also displayed on the left-hand side of the page. If you're on a cell phone, the site will only display a list of all our agents, again with a search bar to filter by the geographical area you're interested in.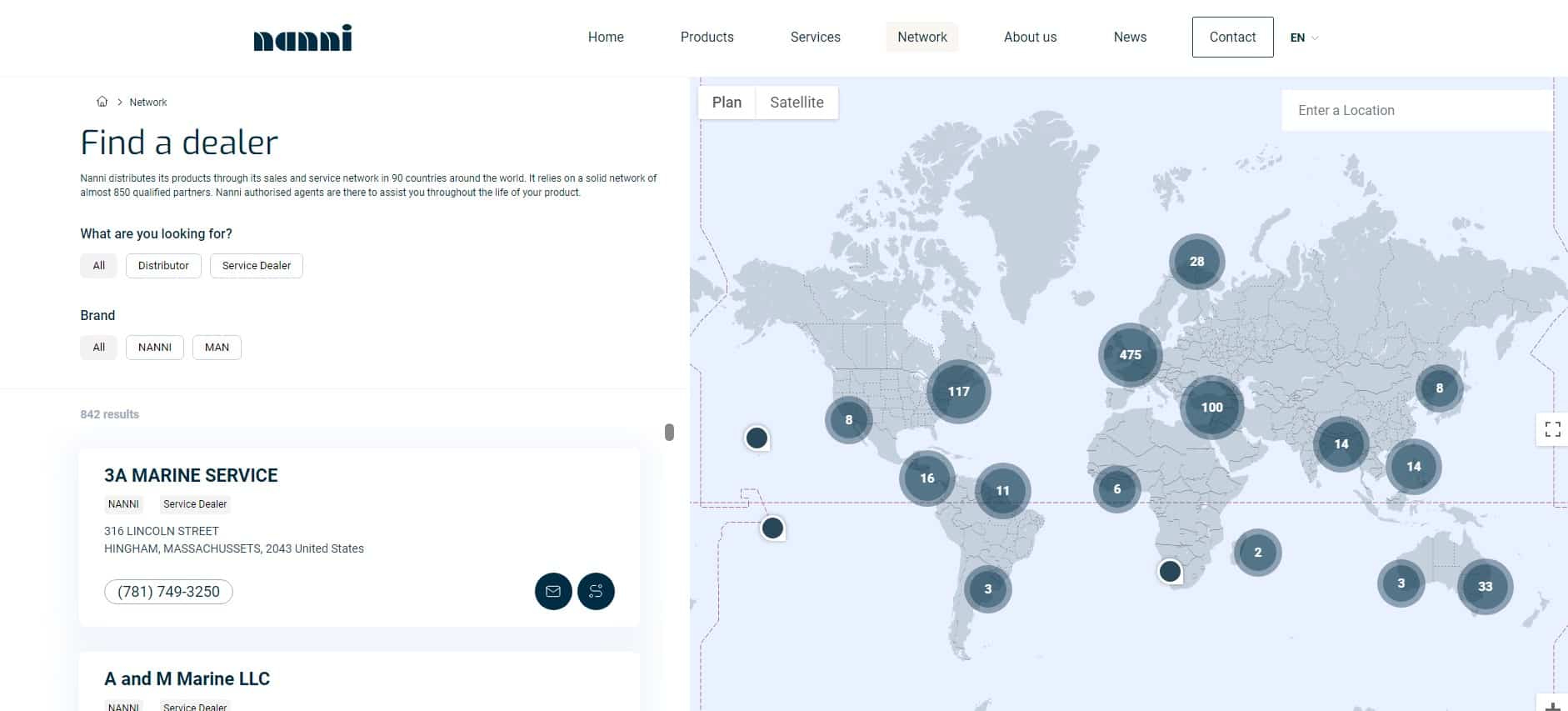 A new way of sorting dealers & distributors has been added to this map, allowing you, if required, to see only the first or only the second, and whether they only do Nanni, only MAN, or both. We have received a great deal of customer feedback on this essential feature, so it was essential to improve it to make life easier for any navigator or company looking for a contact attached to our network.
NEW PRODUCTS CATALOGUE
Although nannienergy.com is not, strictly speaking, an e-commerce web site (for that, our partners have NSP, which we'll be talking about soon in the News pages), it seemed necessary to completely overhaul the way we present our products. From now on, every motor, generator and accessory we sell will have its own individual data sheet, containing all the specifications, dimensions and features, with the option of downloading their data sheets directly from the site.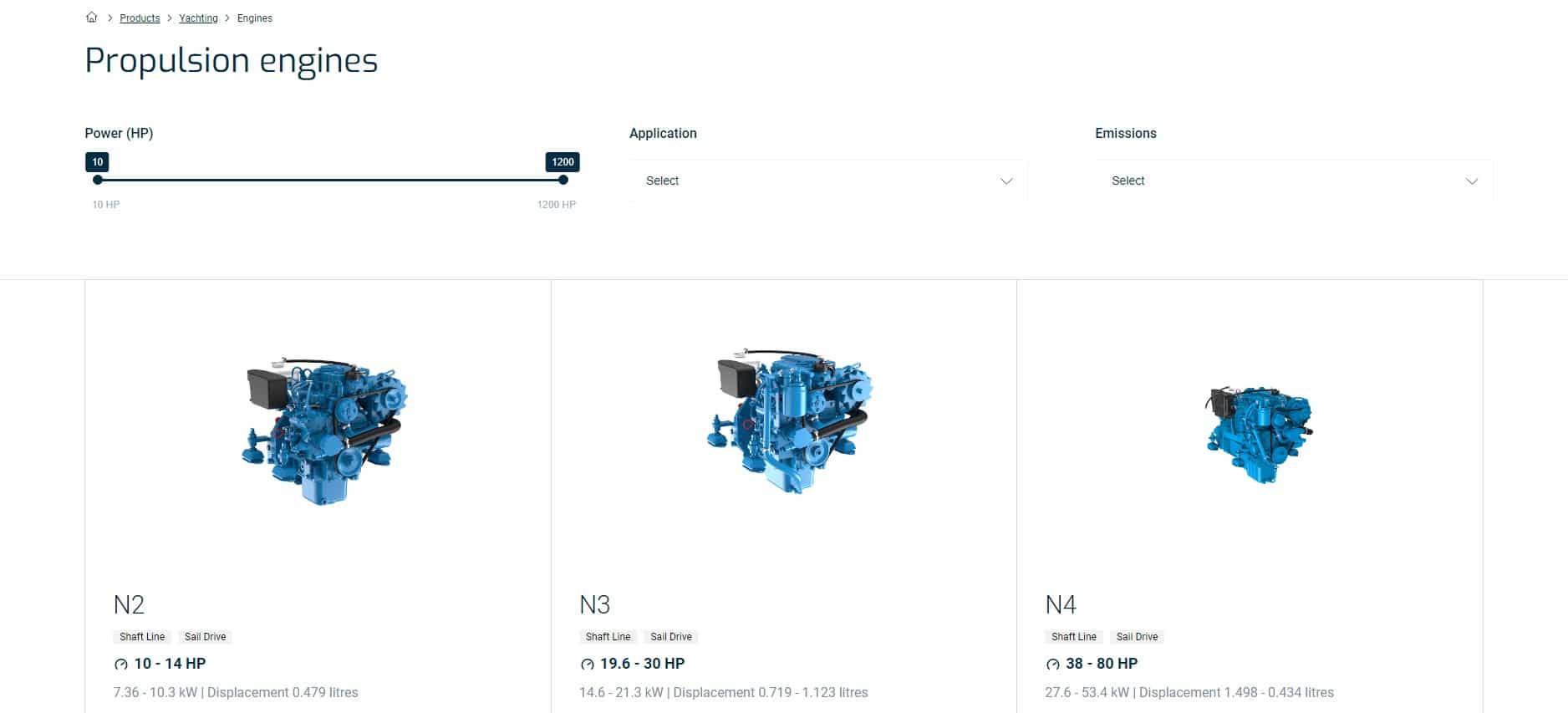 These data sheets have also been sorted to suit our different customers and their different needs at sea. If you're a sailing enthusiast, you'll find our range of motors and generators for pleasure boaters in the Yachting section. For professionals looking for products designed for their commercial activity, you'll need to head for the Professional section, where you'll find all our ranges for this type of marine application.
Our dashboards and joysticks also have their own section, while MAN products, a Nanni partner for 35 years, have their own page displaying the different engine ranges available.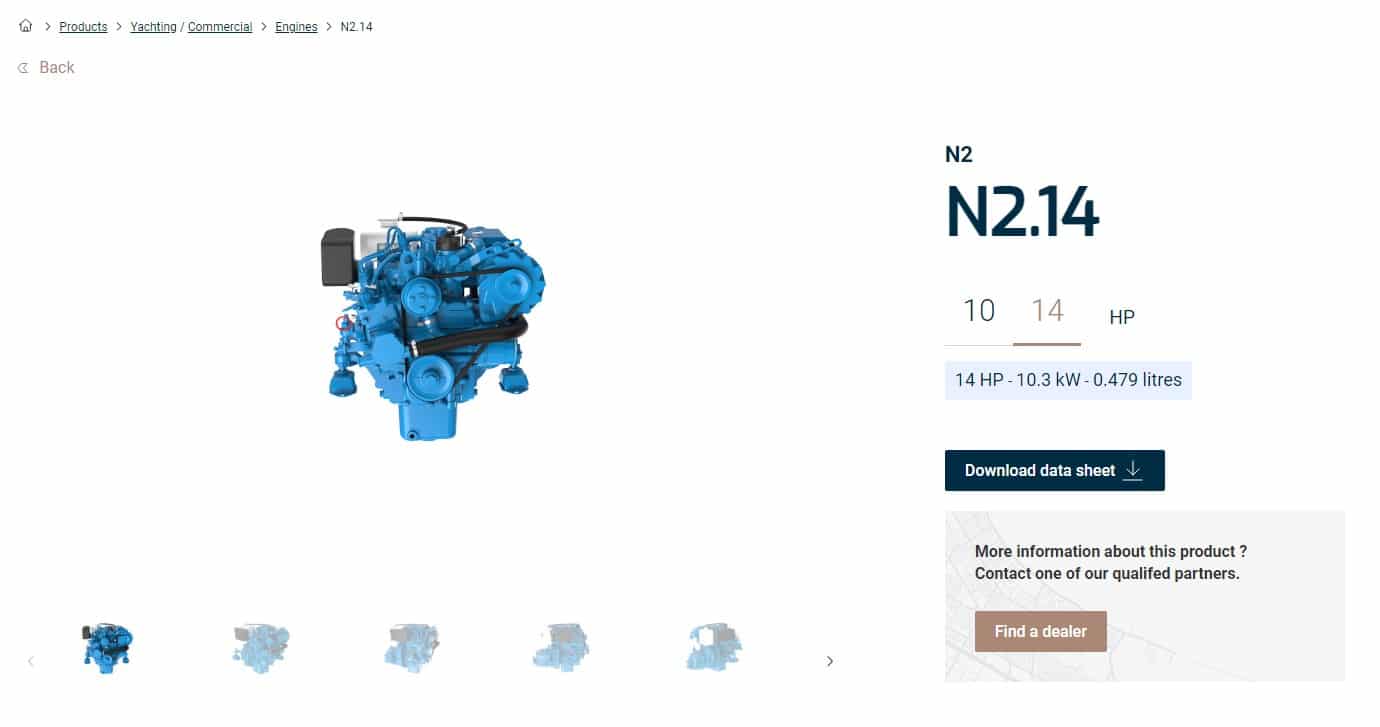 DOCUMENTATION & TRAINING
We get a lot of requests from people looking for technical documentation on their engine, whether it's a new model or an old one. With this in mind, we've completely enriched the documentation page to make available as many resources as possible: the Product Guide, warranty booklets, administrative powers, as well as a search bar to find the technical data sheets for each engine, each generator and each accessory distributed by Nanni.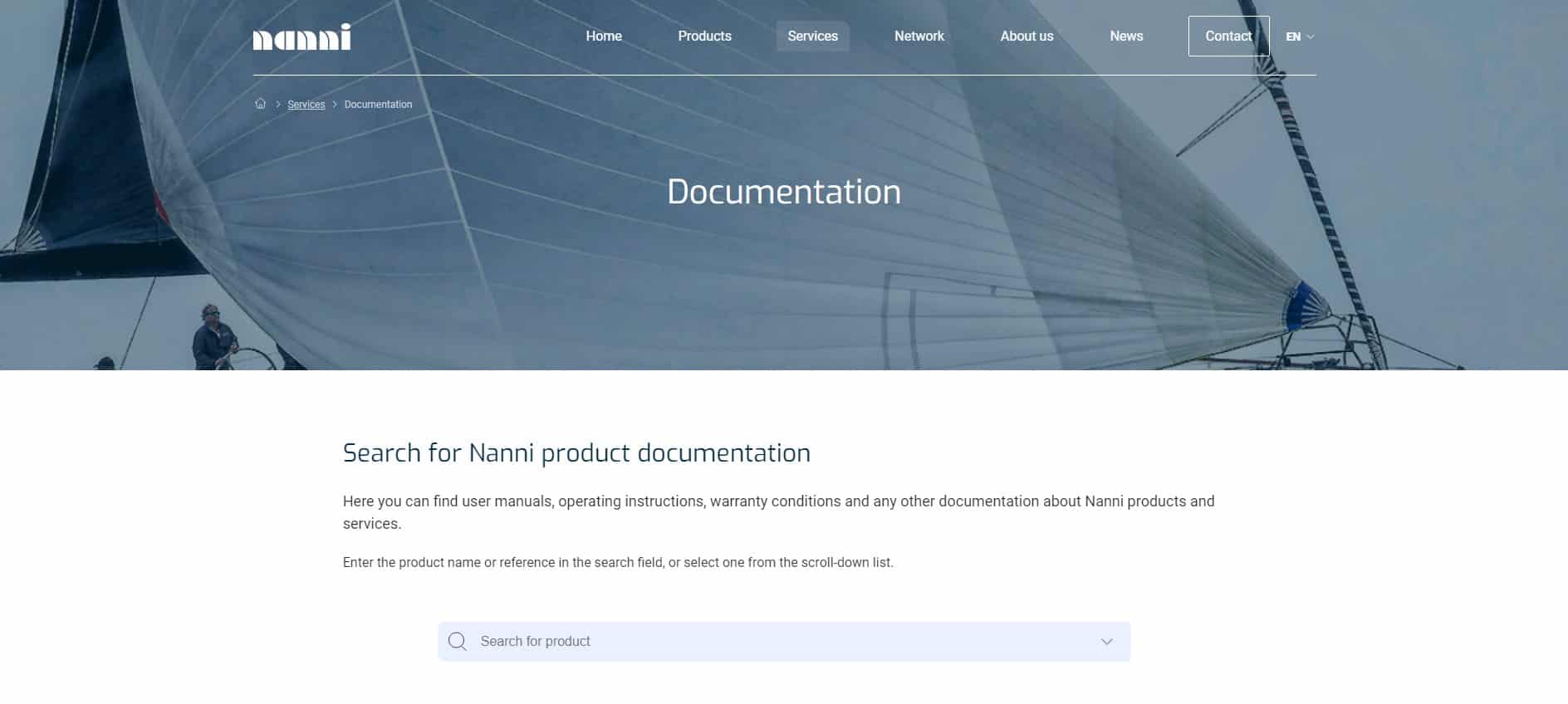 The Training page, already present on our previous site, has also been revamped. It brings together essential information on our training programs, as well as a registration form for contacting the teams in charge of training.
CONTACT & EMPLOYMENT
In order to process your requests more quickly and efficiently, we've created a new contact form. Whether you're a yachtsman or a professional, you can directly indicate the reason and nature of your request. More complete, this form is directly linked to Nanni's Marketing and After-Sales departments to provide you with the best possible response.
A little novelty: the site now features a "Join us" page where future Nanni job offers will be published. Even if there are no job vacancies at the time you visit the page, you can still send us an unsolicited application, which will be forwarded directly to human resources.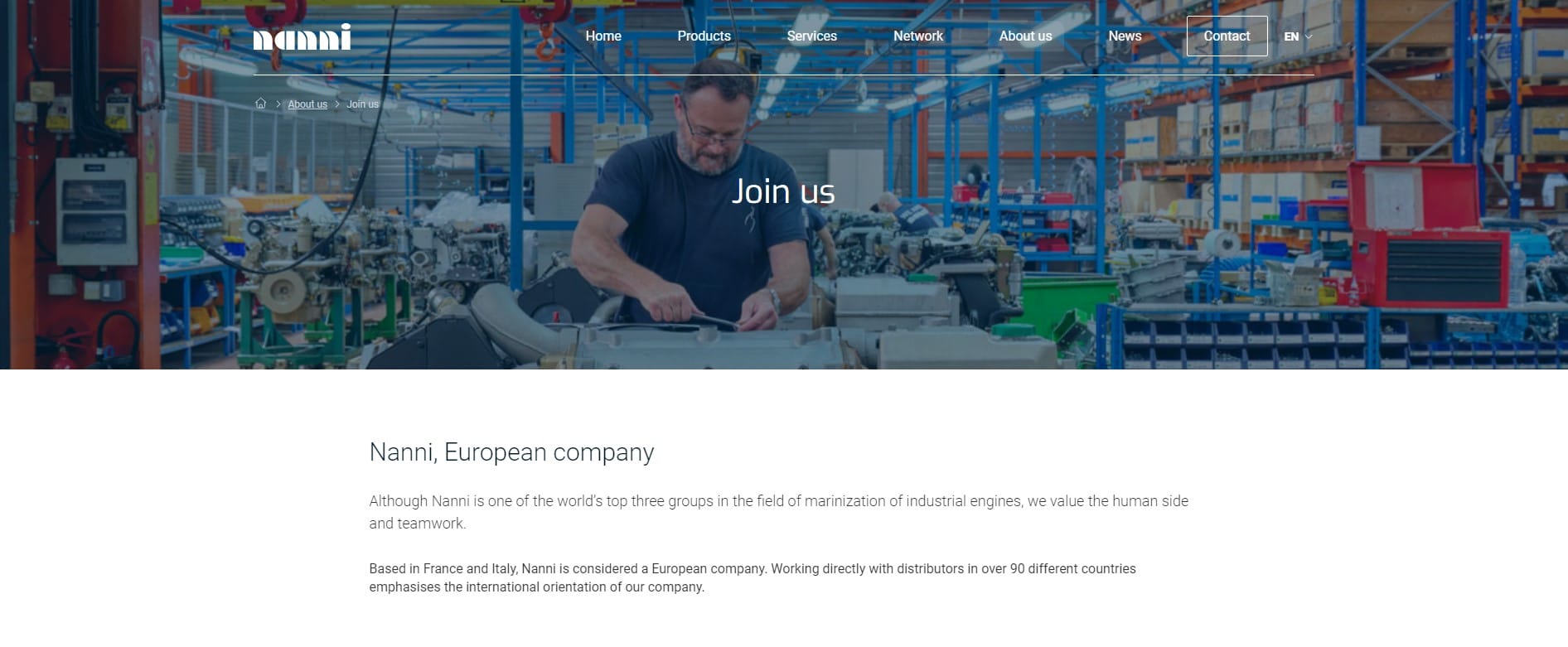 NEWS
Last but not least, the page you're on if you're reading this: News! On our previous site, we used to publish our newsletters here. This new version is intended to be a real little medium, covering news from Nanni Industries as well as more general information on the marine industry. The idea is to offer as much content as possible to our customers, visitors and partners through this page, whether it's to talk about our upcoming new products (such as the Soundless generators, which we'll be talking about here very soon).
The trade shows we're attending (such as the Cannes Yachting Festival, which opens its doors very soon) or the projects we're working on. A blog, in all its classic forms, that we'll try to keep dynamic and interesting, because there are and will be many changes at Nanni and in the yachting market in the years to come.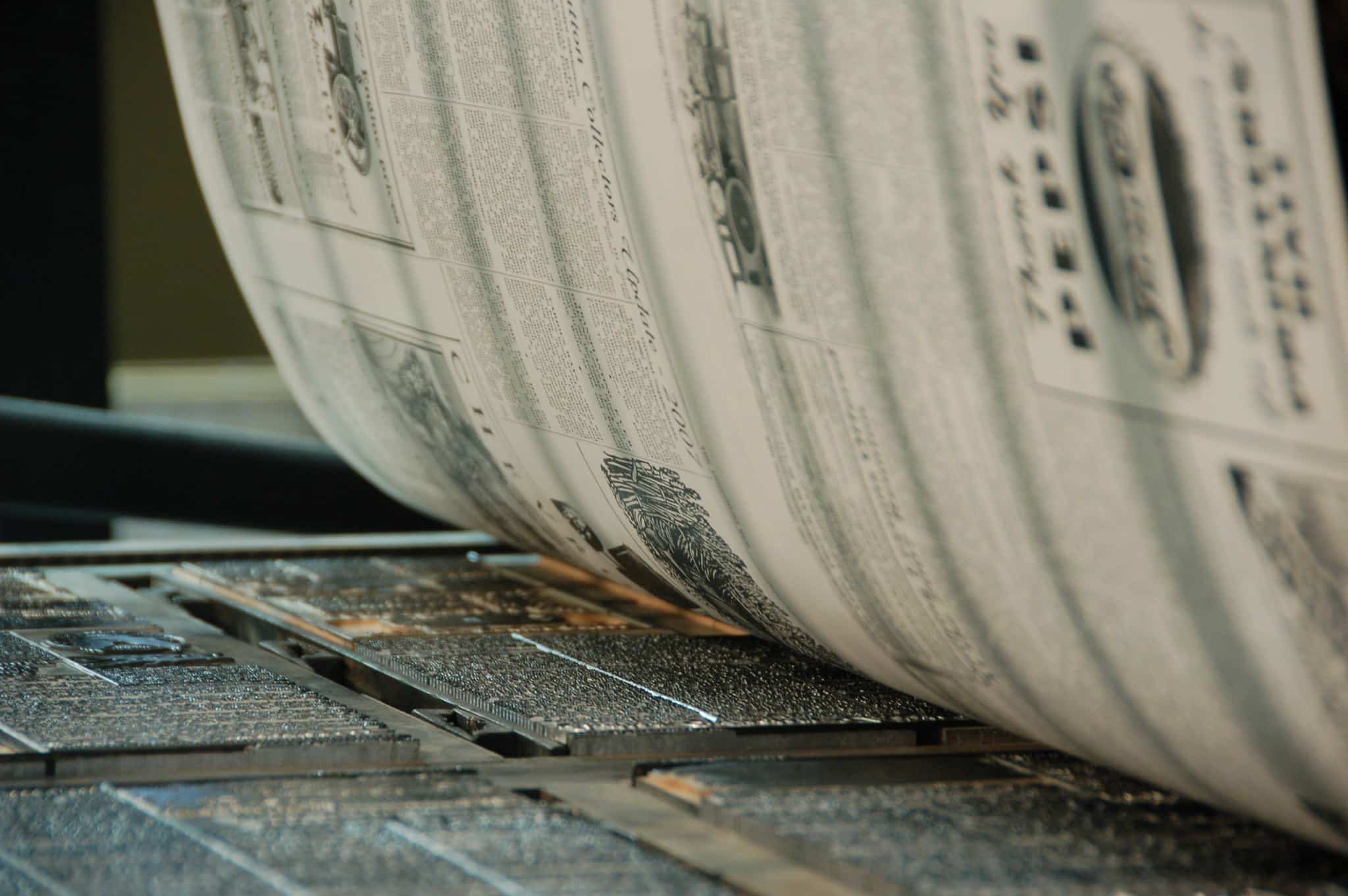 Don't hesitate to give us feedback on the site's ergonomics and content, if you encounter the slightest problem. Every piece of user feedback is invaluable to us, enabling us to continually improve the site and adapt it to your needs. You can also follow us on social medias, such as Instagram, Facebook or LinkedIn, where we regulary post updates on Nanni's products and some content during boat shows. See you soon here and there!